Since the onset of the pandemic in 2020, there has been an increased emphasis on addressing all components of a student's learning process. This shared objective has led to a continual rise and focus on using technology in the classroom learning environment, both in-person and through online courses.
Whether you oversee a middle school, high school, or an entire school district, it is vital to acknowledge and leverage the benefits of technology in education while also incorporating strong administrative policies and formats to set both teachers and students up for success.
Educational Technology Best Practices and Administrative Policies
With all the benefits that technology has to offer a student's learning experience, if it is not incorporated meaningfully and with firm boundaries, technology can be detrimental. As all seasoned educators know, it is best practice to have clearly defined expectations, especially concerning social media and cellphones. These expectations are paramount to student engagement and the success of a 21st century classroom.
Administrative policies regarding technology in education help establish guidelines, standards, and procedures for the responsible and effective use of technology within educational institutions. These administrative policies are essential to ensure the safety, security, and ethical use of technology while promoting educational goals. Here are some common administrative policies related to technology in education:
Acceptable Use Policy (AUP):

Outlines the acceptable and unacceptable uses of technology within the educational institution.
Defines responsible use, privacy, and security expectations for students, staff, and other stakeholders.
Addresses consequences for policy violations.

Internet Safety Policy:

Ensures a safe online environment for students by implementing filtering and monitoring of internet content.
Complies with legal requirements, such as the Children's Internet Protection Act (CIPA).

Data Privacy and Security Policy:

Details how personal and sensitive data of students and staff are collected, stored, and protected.
Addresses data breach response and notification procedures.
Ensures compliance with data protection regulations like the Family Educational Rights and Privacy Act (FERPA).

Technology Procurement Policy:

Sets standards and procedures for acquiring technology equipment, software, and services.
Defines criteria for evaluating and selecting technology vendors.
Determines how and when devices should be retired or recycled.
Ensures compatibility with existing systems and cost-effectiveness.

Accessibility and Inclusivity Policy:

Ensures that all digital content and technology used in education are accessible to individuals with disabilities.
Complies with legal requirements such as the Americans with Disabilities Act (ADA) and Section 504 of the Rehabilitation Act.

Copyright and Fair Use Policy:

Informs educators and students about copyright laws and fair use principles when using digital resources.
Ensures compliance with the Digital Millennium Copyright Act (DMCA) and other relevant laws.

Data Retention and Records Management Policy:

Specifies how long educational records and data should be retained and how they should be securely disposed of when no longer needed.

Technology Integration and Curriculum Policy:

Outlines strategies for integrating technology into the curriculum and classroom instruction.
Defines professional development requirements for educators to effectively use technology for teaching and learning.

Emergency Response and Disaster Recovery Policy:

Establishes procedures for managing technology resources during emergencies, such as natural disasters or cybersecurity incidents.
Addresses data backup and recovery plans.

Social Media and Communication Policy:

Defines guidelines for the use of social media by the institution, educators, and students.
Promotes positive online communication and brand representation.
These administrative policies should be regularly reviewed and updated to align with changing technology trends, legal requirements, and the specific needs of the educational institution. Additionally, effective communication and training are crucial to ensure that all stakeholders are aware of and adhere to these administrative policies.
Keep Up with the EdTech Landscape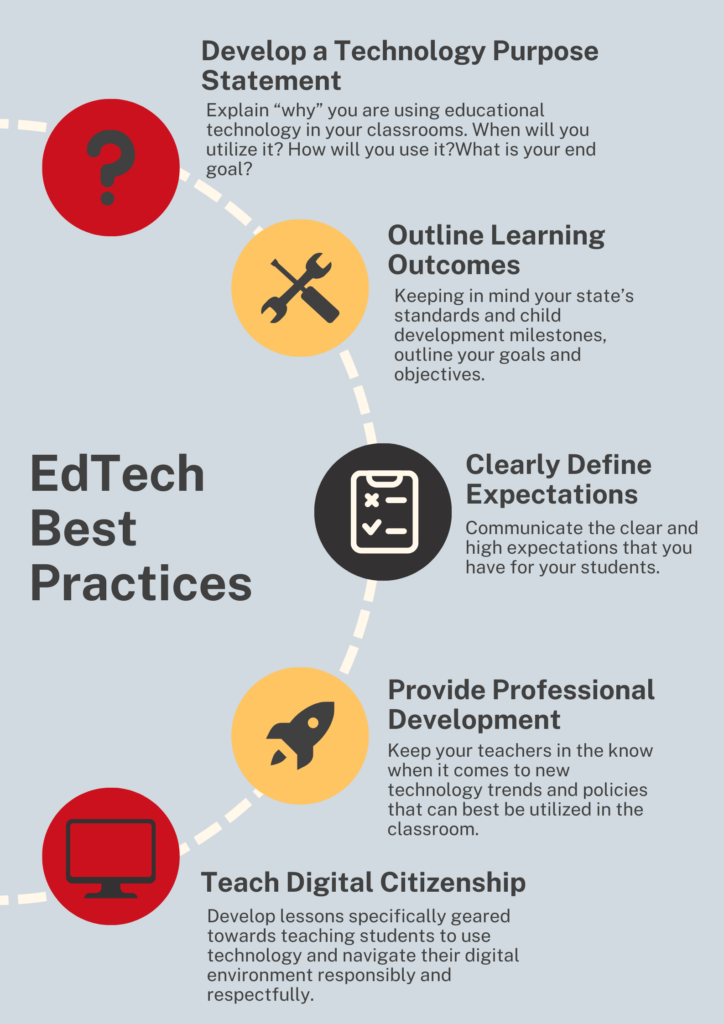 By pairing their pedagogical knowledge with instructional technology, teachers are able to adapt and evolve with the ever-changing educational landscape and needs of their students. By staying on top of modern teaching practices and administrative policies in regards to Educational Technology (EdTech) through professional development or reading reputable articles such as  this one, educators can ensure that they are utilizing various digital learning resources including: technology tools, apps, and Learning Management Systems (LMS) best suited to their classroom's needs.
Lesson plans that incorporate a variety of learning tools and use of technology benefits the teacher and his or her students both in face-to-face and virtual learning. When teachers encourage their students to utilize the technology tools presented to them, they have the opportunity to improve a student's learning experience through the promotion of problem-solving skills and working at their own pace.
Get All Resources In Place
Balancing the best interest of your learners and ensuring successful learning outcomes can feel like a challenging task, especially when incorporating technology within your classroom or school district.
While your team focuses on best practices and administrative policies, delegate the maintenance and repair of your classroom technology, from laptops to Chromebooks and beyond, to our expert team. Get in touch with iResQ today to discover how our tailored asset management portal, designed with educators in mind, along with our efficient procedures, can benefit you and your school district.