Did you know that roughly 307 million people in the United States own a smart phone? Technology has become such a large part of our lives, and most electronic companies have made smart phones, tablets, and laptops more portable than ever to accommodate our desire for convenience and on-the-go lifestyles. In accordance with Moore's Law, the size of the electronic devices have been reduced, and consequently, so have the components within the devices. As portable technology has become more integrated into our lives and has continued to evolve, the need for soldering and micro soldering has also arisen.
Soldering is the process of joining two or more metals by melting a metal alloy, generally composed of lead and tin, known as solder. This process forms a strong electrical or mechanical bond between multiple components by utilizing a soldering iron and simultaneously feeding new solder between the two metals. In our line of work, this process is most commonly used to replace the charging port on many different devices.
Micro soldering takes the concept and practice of soldering but applies it on microscopic level. By using micro soldering, we are able to join components and ultra-fine wires that are 9 microns in size (almost 10 times thinner than human hair). This enables the technician to perform electronics repairs in complex handheld devices, such as iPads, cell phones, and laptops.
Both soldering and micro soldering are precise processes used to replace and repair electronic components such as integrated circuits (IC), connectors, resistors, capacitors, and other small circuit components. With the right tools, iResQ is able to repair and populate Printed Circuit Board (PCB) repairs which include logic boards, motherboards, daughterboards, and other board level work.
Curious About the Micro Soldering Tools iResQ Utilizes for Troubleshooting and Completing Board Repairs?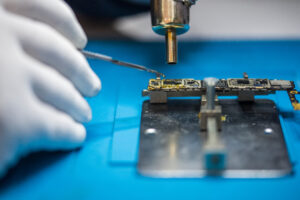 As we've mentioned before, both soldering and micro soldering are incredibly detailed and precise processes. The tools that you have lying around the house just aren't going to cut it when it comes to completing these types of repairs. You will need a specialized workstation, known as a Micro soldering station, that consists of the basic tools needed to be successful while micro soldering, including: an anti-static work surface, temperature control, a powerful microscope, a soldering iron, and a hot air station. At the very minimum, you need the following tools to conduct a soldering or micro soldering job and ensure that your device is well taken care of:
• Solder – a low-melting alloy that is used for joining less fusible metals
• Flux – a chemical cleaning agent used to prepare surfaces for soldering by removing any impurities and oxides
• Desoldering braid/wick – a prefluxed copper braid that is used to remove solder
• Micro soldering iron – a pen-like tool used for melting solder and applying it to the metals that are to be joined. There are a number of different soldering tips and set ups to choose from based on the work required and personal preference.
• Hot air station – a machine that blows heated air at varying temperatures and air flow levels used for melting solder.
• Multimeter – an instrument designed to measure electric current, voltage, and resistance.
• Microscope – provides a detailed view of the various components and allows technicians to ensure that connections are secure and accurate.
• Tweezers – used to manipulate and hold the small and delicate components in the electronic device.
How iResQ is Utilizing Micro Soldering to Benefit our Customers
In our day-to-day repairs, we see many MacBooks, tablets, phones, and game consoles whose boards have been damaged by corrosion, overheating, power surges, flexing, or even by being run over and require micro soldering repair. In fact, second only to screen repairs, the most common phone repairs that we complete are related to power issues, including charging port replacements and logic board repairs, which require great technical skill in soldering and micro soldering.
Our technicians are continuously training in order to better serve our customers and achieve the best results which is, ultimately, a fully functional device. We offer a free diagnosis for every device, so let one of our technicians take a look at what repair(s) your device needs, and we'll let you know if we can fix it. One of iResQ's core values is Honesty, so if the cost of the repair outweighs the cost of your device, we'll let you know that too!