Wow, finally some iPad news! Here are the details from Engadget, complete with pricing:  iPad Launches on April 3, Preorders Begin March 12.
There's nothing like some exciting Apple news to start off a Friday morning. Since I'm not a coffee drinker, it really gives me that kick that I need. Our company breakfast today didn't hurt either. Yum.
So here's an excerpt taken from the Engadget article for those of you too scared to click the link:
"The iPad will be launching on Saturday April 3rd (and on the shelves, er… display tables at Apple retail stores), but you'll be able to plunk down cold, hard cash for it in just a week. Pre-orders will begin on March 12th for the US version (non-3G) for that April street date, with the 3G version coming in late April"
Great stuff! You can be sure that we'll have our hands on these babies as soon as they are available. Of course, we'll also be repairing the iPads in case you haven't seen the links all over our website.
Speaking of great stuff, did you know that this week marked the birthday of Alexander Graham Bell? Yep, that's right — the man who is credited for inventing the telephone. He would have been 163 on March 3rd. I wonder what he would think about the iPhone 3GS? I wonder if he'd play "Words with Friends" against me?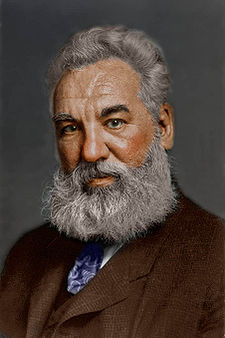 Have a great weekend all, and get your pocketbooks ready to buy an iPad.